We Raised the Curtain for Ronnie Milsap!
Posted by: West Georgia Eye Care Center in Frontpage Article on June 10, 2016
Once again, West Georgia Eye Care Center was privileged to be a Curtain Raiser sponsor at the RiverCenter for the Performing Arts. When the curtain closed at the end of Ronnie Milsap's concert, everyone in the audience was on their feet. The full standing ovation was not only to honor the Country Music Hall of Fame legend (whose 40 top hits have won him multiple Grammys) but to also to honor "America the Beautiful" as the show closed to this great patriotic classic.
"I know I could not have been blessed with this great life I have lived in any other country than America," Mr. Milsap shared as he thanked the men and women of our armed forces and law enforcement.
For those who are not familiar with him, Ronnie Milsap was born with glaucoma and has been totally blind since boyhood. He studied at a school for the blind, and had the opportunity to study violin and piano at a young age. Without this specialized school, Mr. Milsap would likely have missed the chance to study music. At the concert, he expressed gratitude to God for allowing him to discover and develop his gift for music.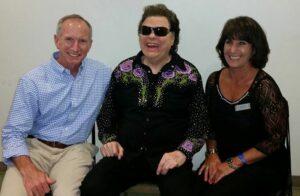 ---