Edward L. Curran, M.D.
Comprehensive Specialist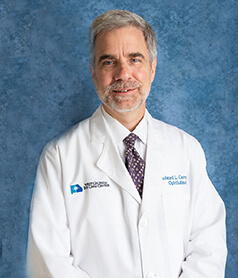 Locations
Dr. Curran is an American Board of Ophthalmology-certified ophthalmologist who practices comprehensive medical, laser and surgical ophthalmology at West Georgia Eye Care Center in Columbus, Georgia. He is the oldest of four children and grew up in Champaign-Urbana, Illinois, where his father taught chemistry at The University of Illinois. Dr. Curran pursued his medical training in both Chicago and Memphis.
As a senior in high school, he was accepted into the Honors Program in Medical Education at Northwestern University. This involved concurrent acceptance into an accelerated Bachelor of Science program as well as the Honors Program at Northwestern University Medical School in Chicago, where he graduated in 1992. His post-graduate training included a one year medical/surgical internship at Loyola University in Chicago and a three year residency in Ophthalmology at the University of Tennessee, Memphis, which he finished in 1996. While there, he participated in surgical missions projects in Ometepec, Mexico as part of the World Cataract Foundation.
In 2001, after spending five years practicing ophthalmology in Laurel, Mississippi, a medically underserved area 100 miles Northeast of New Orleans, Dr. Curran came to Columbus and West Georgia Eye Care Center. He is currently on staff at St. Francis Hospital and Midtown Medical Center. Additionally, he is actively involved in resident training for the Family Practice Residency Program at Midtown Medical Center as well as being an Associate Professor of Medicine at Mercer University School of Medicine.
Dr. Curran practices comprehensive ophthalmology, which includes the medical, laser and surgical treatment of most eye problems as well as check-ups and glasses exams. He has a special interest in diabetic eye health, dry eye problems, glaucoma and cataract treatment and he also sees quite a few macular degeneration patients. He is certified by the American Board of Ophthalmology and is a fellow of both the American College of Surgeons and the American Academy of Ophthalmology. Dr. Curran is married with three children. His interests include being involved with his family and church, playing tennis, reading, kayaking and hiking.