Evan Sussenbach, M.D.
Comprehensive Specialist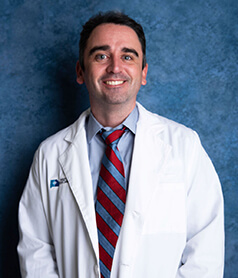 Locations
Dr. Evan Sussenbach is a Columbus native. He graduated from the University of Georgia with highest honors and a bachelor's degree in Forestry. He worked as a timber market analyst for one year before attending medical school at the Medical College of Georgia in Augusta. He completed his medical internship at Baptist Hospital in Nashville, Tennessee, and he completed his residency at Dean McGee Eye Institute in Oklahoma City. Dr. Sussenbach joined West Georgia Eye Care Center in August 2015.
Dr. Sussenbach has served as an advocacy ambassador for the field of ophthalmology on Capitol Hill. He has co-authored several publications for medical and ophthalmic journals and is affiliated with several medical professional societies, including the American Academy of Ophthalmology, the Oklahoma Association of Ophthalmology, and the Christian Ophthalmology Society.
In tandem with his professional medical pursuits, Dr. Sussenbach has served widely in both a volunteer and missions capacity. He served as the Resident Liaison for YO2GO, a website for young ophthalmologists interested in international medical work, where he writes articles and coordinates communication about global ophthalmology. He and another physician colleague organized a makeshift clinic in Chilca, Peru, where they treated over 250 patients in four days. Stateside, he devoted four years to a community learning center where he served as a tutor, mentor, Bible study leader, and transportation coordinator for at-risk teens and their children. He has practiced in homeless clinics as a volunteer MD with the Salvation Army, and has also provided eye care without cost to uninsured through Olivet Free Med Clinic. Additionally, he has worked extensively with youth, from facilitating Bible studies to coordinating and resourcing leaders.
Dr. Sussenbach's personal interests range from sports to fine arts. He was an intramural champion for men's tennis at the University of Georgia and is a 5-time Bike Ride Across Georgia competitor. In the realm of music, he spent several years as a high school project mentor in acoustic guitar. He has choreographed and performed ballroom dances for over 2,000 patrons as a member of the UGA Ballroom Performance Group. In his downtime, he enjoys his church community group and playing golf and softball.
Dr. Sussenbach lives in Columbus with his beautiful wife Christy, who is a native of Atlanta, Georgia. Christy is a trained nurse who has worked in the ICU and the recovery room. They had their first son, Nathan, in November 2015.
WGECC: Dr. Evan Sussenbach