Mark P. Smith, O.D.
Routine, medical and contact lens exams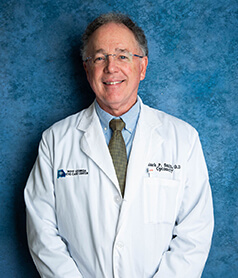 Locations
Specialties
Dr. Smith has been in primary eye care practice at West Georgia Eye Care Center since 1992. He is board-certified by the American Board of Optometry and sub-specializes in contact lenses.
After completing undergraduate degrees from Young Harris College and Emory University, Dr. Smith worked as a medical editor for sports medicine orthopedists in Columbus, Georgia and Los Angeles, California. He attended graduate school at Auburn University prior to earning the Doctor of Optometry degree from the University of Alabama at Birmingham in 1989.
A former intercollegiate tennis player, he has a special interest in sports vision and contact lenses. He welcomes athletes of all ages as patients. Dr. Smith is a co-author of several publications on the visual skills of professional baseball players, and he is a member in good standing of the American Optometric and Georgia Optometric Associations.
A native of the Columbus/Harris County area, Dr. Smith lives in Pine Mountain, Georgia, where he is active at Midway Baptist Church and leads a nondenominational Christian Apologetics Society. He has been on medical mission trips to Jamaica and Honduras and is a member of the Harris County Development Authority. Dr. Smith is married to the former Sally Clay Barrett of Cartersville, Georgia and has one daughter, Erin. His hobbies include tennis, windsurfing, and horseback riding on his small farm in Pine Mountain.