Cynthia P. Nix, M.D.
Cornea/Refractive Specialist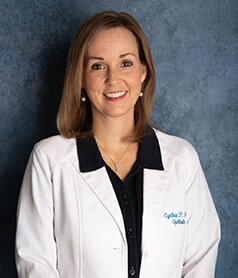 Locations
Cynthia Nix, M.D. is an American Board of Ophthalmology certified eye surgeon who joined West Georgia Eye Care Center in 2010. She is a fellowship-trained cornea specialist focusing on the surgical management of cataract/lens surgery, corneal transplantation, and laser refractive surgery (LASIK/PRK). In addition, Dr. Nix specializes in managing diseases of the ocular surface such as dry eye, infections, tumors, and contact lens complications, as well as providing general ophthalmologic care.
Dr. Nix began her education at the University of Michigan, graduating magna cum laude from the Honors College with dual degrees in Cellular & Molecular Biology and Medieval & Renaissance Studies.
She continued her education at the renowned University of Michigan Medical School, receiving her medical doctor degree with honors in research for her contributions in the Laboratory of Immunology, NIAID, NIH while a research scholar for the prestigious, competitive, year-long Howard Hughes Medical Institute—National Institutes of Health Program.
After a medicine internship in the critical care and hospital setting, Dr. Nix completed three years of ophthalmology residency training and a one-year cornea fellowship at the #1 ranked ophthalmology program in the nation, Bascom Palmer Eye Institute at the University of Miami, Miller School of Medicine.
As a senior resident, Dr. Nix won first place in the American College of Eye Surgeons National Cataract Surgery Competition. She has performed extensive clinical and basic science research resulting in paper and book chapter publications and presentations at numerous national conferences. Dr. Nix has worked alongside some of the most highly regarded cornea specialists in the world and is up-to-date on the most cutting-edge ophthalmic surgery techniques and procedures.
Dr. Nix is married to Dr. Jamie L. Nix, D.M.A., an alum of Auburn University. He is Director of the Wind Ensemble Program and Professor of Conducting at Columbus State University's Schwob School of Music. Dr. Nix has two elementary-aged children, two cats, and a dog and enjoys traveling, scuba diving, hiking, camping, and spending time with her family.
WGECC: Dr. Nix