Casey C. Geringer, D.O.
Glaucoma Specialist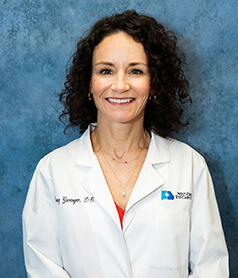 Locations
Dr. Casey Geringer is a comprehensive ophthalmologist and glaucoma specialist, joined West Georgia Eye Care Center in September 2016. A Nebraska native, she graduated from the University of Nebraska with a bachelor's degree in exercise science before completing one year toward a master of science in biology. Dr. Geringer completed medical school at the Osteopathic Medical Center at Des Moines University, ranking fourth in her class. Her medical internship was held at Henry Ford Health Systems in Detroit, MI, where she also completed an ophthalmology residency and glaucoma fellowship. During this time, Dr. Geringer served as chief resident and was honored to receive the David Barsky Resident Research Award.
Before beginning osteopathic studies, Dr. Geringer worked as a clinical laboratory assistant and operations manager at Davis Community Clinic in California, where she performed extensive testing and phlebotomy and was responsible for supervision of employees and operations of four clinical labs. As a graduate teaching assistant, prepared, taught and graded three sections of General Biology Laboratory at the University of Nebraska.
Dr. Geringer has been involved in a number of medical research projects, and has authored publications and presentations on the topic of the medical management of glaucoma. She is affiliated with such professional associations as the American Academy of Ophthalmology, and has attended scientific meetings such as the CPE Glaucoma Fellows Program and Complimentary Ophthalmic Residents Education Program (CORE), where she served as proctor.
In addition to her professional medical pursuits, Dr. Geringer has served as a Hospice Respite Volunteer, and participated in the Adopt-a-Grandparent program, as well as conducting numerous vision screenings and wellness programs in the community. As to extracurricular roles, Dr. Geringer has held the roles of Intramural Captain for the Physician Athletic League, President of the Geriatrics Club, and Chairman for Breast Cancer Awareness with the Women's Medical Association.
Dr. Geringer and her husband have three children, and enjoy an energetic home life. In her pockets of free time, Dr. Geringer enjoys golf, cooking, and reading historical fiction. She has completed five marathons, including the Boston Marathon, and is a committed CrossFit aficionado.