Overview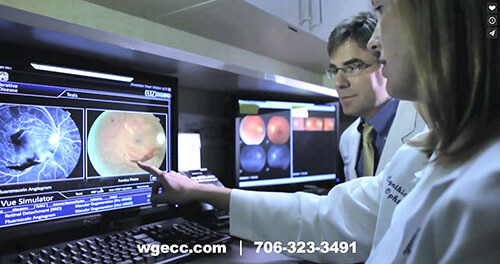 West Georgia Eye Care Center has been serving the Columbus community with exceptional eye care since 1951. The clinic has since grown to become the largest multi-specialty ophthalmic practice in the area, with 3 locations, eleven ophthalmologists, three optometrists and a staff of more than 140 people.
West Georgia physicians are passionate about the health of your eyes and the success of your surgery. They continue to stay up-to-date with the latest technology and advancements in eye care.
Our main office on Warm Springs Road also houses our state-of-the-art ophthalmic surgery center. Additionally, our anterior segment/cornea specialists and Laser Vision Center are located at our North Office on Whittlesey Blvd., while our glaucoma specialists practice at our newly renovated 10th. Avenue location.
Patients may be seen at all three locations:
Monday – Thursday 8:00 am-5:30 pm
Friday: 8:00 am-5:00 pm
Saturdays: 8:00 am-1:00 pm at our Whittlesey Blvd location*
WGECC Locations
2626 Warm Springs Road (Drs. Cannon, Curran, Henslee, Kao, Mayfield, Paulk, Sussenbach, and Smith)
6600 Whittlesey Blvd (Drs. Brooks, Nix, Leary, and Stowe)
2020 10th Avenue (Drs/ Crumpton and Geringer)
*Physicians rotate these Saturday hours to accommodate patients who may not be able to be seen during traditional working hours.