Sterling L. Cannon, M.D.
Oculoplastic Specialist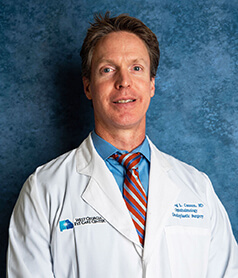 Locations
Specialties
Dr. Cannon, a Florida native, joined West Georgia Eye Care Center in 2005. He is a member of an elite field of surgeons who specialize in cosmetic and reconstructive surgery of the eyelids, brows and tear drains as well as general ophthalmology. There are no other oculoplastic surgeons in the Columbus area.
He was recruited by West Georgia Eye Care Center after finishing four years of medical school at the University of Miami; a one year internship with Columbus Regional Medical Center; a three year residency in Ophthalmology in Oklahoma City, at the prestigious Dean A. McGee Eye Institute; and one year fellowship in Ophthalmic Plastic and Reconstructive Surgery also in Oklahoma City. Oculoplastic Surgeons train in ophthalmology (eye microsurgery) and then train further in advanced plastic surgery techniques of the eyelids, orbit (bones surrounding the eye), and tear drainage system.
Since Dr. Cannon focuses mainly on one particular area of the face, he has more extensive experience in this area than surgeons who operate on broader areas of the face and body. Dr. Cannon's practice is specifically focused toward cosmetic and reconstructive eyelid surgery, as well as general ophthalmology. He has used his talents to serve communities all over the world. Dr. Cannon has been to Ecuador and China on medical missions.
While in residency he also volunteered at the Ministries of Jesus clinic supplying free medical care to those in the Oklahoma City area. Dr. Cannon and his wife are actively involved as volunteers for Young Life. They have two boys and a girl who fill most of their time. In his limited free hours, Dr. Cannon enjoys playing percussion and various outdoor activities, to include surfing, wind surfing, and swimming. He and his family enjoy spending time outdoors with their two dogs, Porter and Lilly.
WGECC: Dr. Cannon