Steven L. Henslee, M.D.
Comprehensive Specialist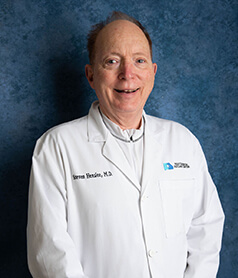 Locations
Dr. Steven Henslee is a comprehensive ophthalmologist with over 30 years of medical and surgical experience, with a particular focus on treating diabetic eye disease, macular degeneration, glaucoma and cataracts. An Oklahoma native, Dr. Henslee moved to Columbus in 1987, where he has practiced ever since. He obtained a bachelor's degree in microbiology from Oklahoma State University before earning his medical degree at the University of Oklahoma. He completed a medical internship at Henry Ford Hospital in Detroit, Michigan, and a three-year ophthalmology residency at the prestigious Dean McGee Eye Institute in Oklahoma City.
Dr. Henslee also served with the United States Air Force as a flight surgeon and Chief of Ophthalmology at Pease Air Force Base Hospital in New Hampshire and Kirkland AFB, New Mexico, where he managed the Ophthalmology Department, Eye Clinic and Regional Referral Center. He performed the first extracapsular cataract procedure with intraocular lens implantation and the first scleral transplant done at Pease Air Force Base.
Currently, Dr. Henslee maintains professional affiliation with a number of medical societies, imcluding the American Academy of Ophthalmology, Muscogee County Medical Society, Christian Ophthalmology Society, and the Medical Association of Georgia.
Dr. Henslee is happily married with two teenage children, and his family enjoys traveling, fishing, and going on cruises. Dr. Henslee believes in the Boy Scouts of America, and has invested in many young men as Scoutmaster and Assistant Scoutmaster at St. Luke Troop 35.