Nicholas D. Mayfield, M.D.
Retina Specialist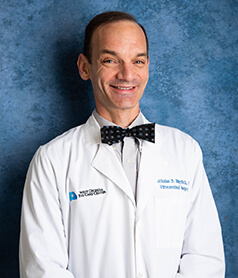 Locations
Specialties
Dr. Mayfield is a board-certified ophthalmologist specializing in surgery and diseases of the retina and vitreous. As a fellowship-trained retinologist, Dr. Mayfield received advanced training for the management of retinal detachment, including pars plana vitrectomy, scleral buckling, and pneumatic retinopexy in adults. Additional specialized training received includes using Argon laser for diabetic eye problems and retinal tears, pars plana lensectomy for the management of traumatic cataracts, pars plana vitrectomy for macular hole and epiretinal membrane, and treatment of advanced age-related macular degeneration.
Dr. Mayfield completed a B.S. in Biology at the University of Alabama, and a Doctor of Medicine at the University of Mississippi. Subsequently, he completed an internship in internal medicine and an ophthalmic residency at the University of Mississippi Medical Center, followed by a two-year fellowship focused on vitreoretinal surgery and disease at the Retina and Vitreous of Texas.
Dr. Mayfield is certified by the American Board of Ophthalmology (2008) and licensed to practice medicine and perform surgery in Georgia and Alabama. His professional affiliations include fellowship status with the American Academy of Ophthalmology, and the American Society of Retinal Specialists.
Dr. Mayfield enjoys playing classical guitar, spending time at the gym, jogging, swimming, and spending time with his wife and kids. Dr. Mayfield and his family also enjoy spending autumn Saturdays in Tuscaloosa watching the Alabama Crimson Tide football team take the field.
WGECC: Dr. Mayfield