Timothy P. Kao, M.D.
Comprehensive Specialist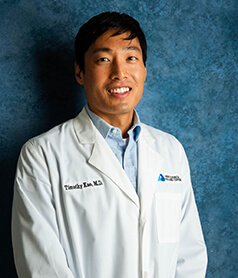 Locations
Dr. Timothy Kao (pronounced "Gow") was born in Iowa and grew up Minneapolis, Minnesota. He earned his medical degree from the University of Minnesota in 2011 before going on to complete an internship at the Hennepin County Medical Center in downtown Minneapolis. He returned to the University of Minnesota for a residency in ophthalmology, which he completed in 2015. Dr. Kao then practiced as a comprehensive ophthalmologist for three years in Mankato, Minnesota before joining West Georgia Eye Care Center in 2019.
He has participated in a number of volunteer activities that have involved providing direct eye care as well as ones aimed at providing glasses to underserved communities worldwide. During residency, he took part in a medical mission in Southern Africa. .
Dr. Kao's medical interests include cataract surgery, glaucoma management, laser eye surgery, medical retina, functional eyelid surgery and Botox injections. He is fully certified by the American Board of Ophthalmology and is a member of the American Academy of Ophthalmology and the American Society of Cornea and Refractive Surgery.
Dr. Kao is married with two young children. He is active as a church volunteer and enjoys time with his family, sports, outdoor activities, and cooking.
Helping people improve and maintain their sight is a joy to Dr. Kao and he looks forward to providing care to the people of Columbus and its surrounding areas.