Not seen before
Posted by: West Georgia Eye Care Center in Frontpage Article on January 8, 2016
When you feel good, you look good. It radiates from inside. 

-Mary Lawson, iLASIK patient
Happy New Year from West Georgia Eye Care Center!
According to most dictionary definitions, the word "new" can be used to describe things not seen before. 
New flares and shades of color in a sunset. Shades you've not seen before.
New faces at work. Faces you've not seen before.
New buds on a rosebush. Rosebuds you've not seen before.
When our patients tell us about life after iLASIK, a common theme is newness. The world seems new, fresh, and full of wonder, because suddenly they can see things they couldn't see before. Details in a landscape, ripples in a river, words on a playbill. At WGECC, we are committed to you, our patients, and to helping you to see your best.
Our first patient to check in in 2016, Mary Lawson, is someone with all-new vision, compliments of iLASIK, the most advanced laser technology available. We took the opportunity for a little fanfare and presented her with a WGECC Tervis tumbler as a surprise-prize for being our first patient of the New Year. But Ms. Lawson surprised us with her enthusiastic reply: "Oh, you've already given me the best gift–new vision!"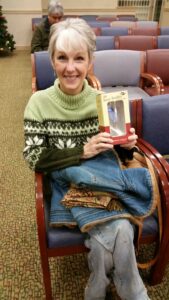 Ms. Lawson is a chef at the Fresh Market, and the creative force behind the artisan breakfast breads. Before iLASIK, she became increasingly frustrated with the at-work inconvenience of her glasses: "I work with live product, so I'm in and out of industrial freezers all the time. With the temperature change, my glasses would fog up, making me essentially blind for several minutes. It really influenced the way I felt while working." In addition to career inconveniences, Ms. Lawson also found that glasses hampered her recreational life as well. "I love to ride my bike, but I was always nervous about my peripheral vision in frames, and falling and breaking my glasses." Ultimately, pre-iLASIK vision set limits and boundaries on her life.
So why did she decide to get iLASIK with Dr. Cynthia Nix at WGECC? "I did this for me. I wanted to feel good about myself and I wanted to see. And after my consultation, I knew Dr. Nix was the surgeon for me." According to Ms. Lawson, Dr. Nix is sincere, open, easy to talk to, and immediately puts you at comfort in her presence. "I had no questions about what to expect. I had no doubts. Dr. Nix addressed all of my concerns with clarity."
Ms. Lawson said the surgery itself was a breeze, and she couldn't be happier with her new vision. "I experienced zero discomfort. It didn't interrupt my life. I would do it all over again." She expressed the sheer delight of waking up and actually seeing the clock, of fearlessly riding her bike, of confidently working and moving through her life.
At her 3-month post-operative appointment this week, Ms. Lawson was visibly radiant, with a tangible air of joie de vivre. "As a woman, I gained so much confidence after iLASIK. When you feel good, you look good. It radiates from inside."
---