Of goals and glasses
Posted by: West Georgia Eye Care Center in Frontpage Article on January 15, 2016
January is a month for goal-setting. If you're on the lookout for a worthwhile pursuit, why not consider freedom from glasses and contact lenses in 2016?
Last week, we introduced you to a patient who met that goal with iLASIK. But did you know that, for many patients, advanced cataract surgery can accomplish that goal, too?
Linda Cliff has worn glasses since she entered kindergarten at age five. She arrived in the office with a collection of grade-school photos from her era of being bespectacled. She even brought a pair of vintage glasses worn in one of those photos!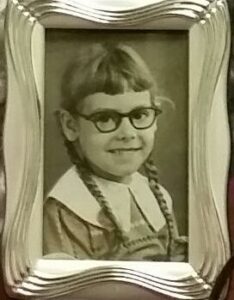 But after cataract surgery, Ms. Cliff's days of wearing glasses became a bygone era, and she couldn't be more pleased with the life-changing difference. It only seemed right that we snap a new–glasses-free!–picture to add to Ms. Cliff's photo collection.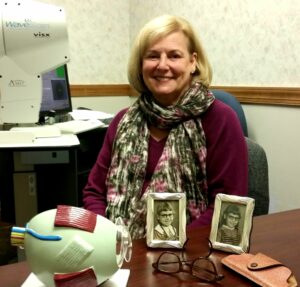 Her friends have noticed the change, too: "You don't have glasses anymore!" they exclaim, telling her that she "looks so great" since surgery. Like our iLASIK patient pointed out last week, you look good when you feel good. And while some people love wearing glasses, and look fantastic in them, others prefer an "unframed" face and the ease of going without glasses.
When asked to describe her experience at West Georgia Eye Care Center, Ms. Cliff used words like: professional, expert, and caring. She credits her surgeon, Dr. James Brooks: "Cataract surgery is such a gift!" She especially thanked Anna Schuler, Dr. Brooks' ophthalmic technician, for providing great support for the duration of her surgical experience, from pre-operative to post-operative visits. "I am grateful for everyone," she said. "From the first visit to the actual surgery, I have been thrilled with the care!"
Ms. Cliff added that until her cataract surgery, she wasn't aware that this level of care existed in one location right here in Columbus, Georgia.
For the physicians and staff of West Georgia Eye Care Center, it is our goal to provide excellent eye care for our community and the surrounding areas. Thank you for allowing us to meet that goal and thank you for the privilege of helping you meet yours!
---