Some Pictures Tell the Story Better Than Words!
Posted by: West Georgia Eye Care Center in Frontpage Article on May 5, 2017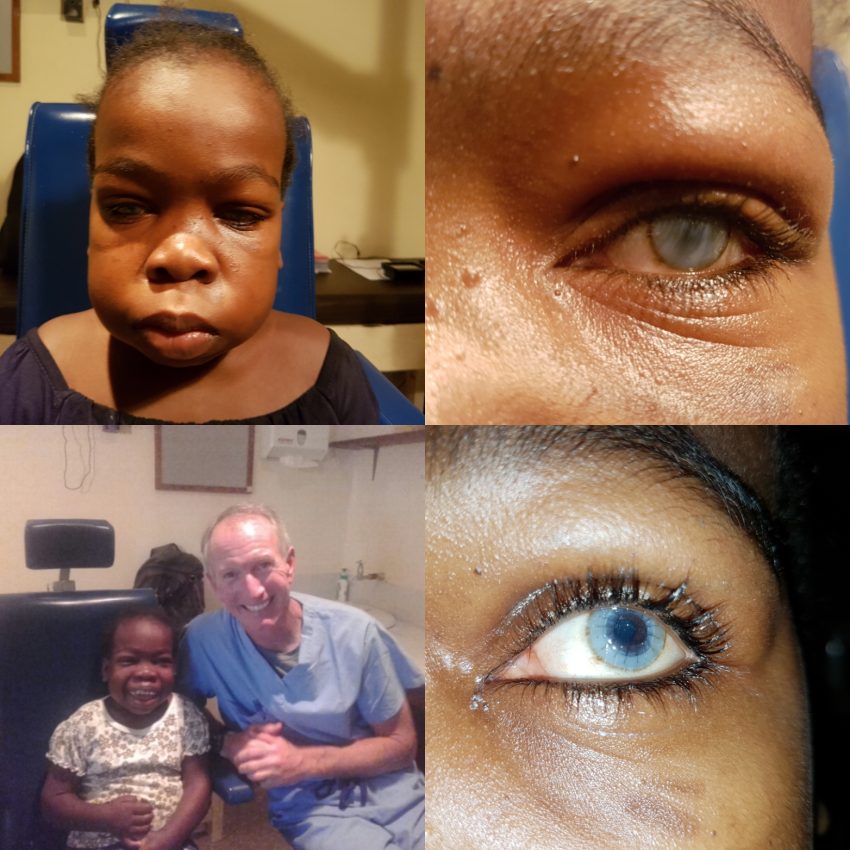 You really can hear the story behind these pictures by just looking at this 13 year old patient's precious face after surgery! Her before and after eye photos speak loudly.  See her diseased and opaque cornea that offered her only a life of blindness and view all of the potential her new clear cornea offers her today!  The Georgia Eye Bank, the Lighthouse for Christ, and Dr. James Brooks, MD were all essential in creating this happy ending!
More of the Story:
Dr. Brooks returned to Kenya last month for his annual mission with Lighthouse for Christ. He is able to take healthy donated corneal tissue thanks to the generosity of the Georgia Eye Bank and the UT Southwestern Transplant Center.  This recipient of a cornea was blind from corneal haze caused by a genetic metabolic disorder.  Read below, in her Mother's words, what this life-changing, sight-giving surgery means to her.
A Mother's Words:
"I hope you are doing well. I'm well and very grateful to the entire team that saw my daughter get cornea transplant and hardly 2 weeks later she's able to tell 2 different paints in the house we have lived in for the last three years, God is indeed good. Thank you so much, my heart is full of gratitude and I can only pray that God enlarge your boundaries and may any hand that gave towards this course or participated in one way or the other be bountifully blessed. Kindly pass my regards to Dr. Brooks!"
If you would like to be a part of writing more stories like this one, visit the website for Lighthouse for Christ to learn more:
https://lighthouseforchrist.org
www.georgiaeyebank.org
---