Running Across Georgia to Empower the Visually Impaired
Posted by: West Georgia Eye Care Center in Frontpage Article on May 27, 2016
Can you imagine running 260 miles across the entire state of Georgia? For some of us, running a single mile is daunting enough! But like all worthy endeavors, Run Across Georgia is a cooperative effort that requires spirit, grit, and endurance.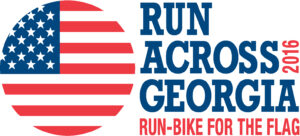 Yes, participants share the joy of running, but they sweat through those almost-300 miles for a reason: to benefit nonprofit organizations like Camp Abilities and Georgia Blind Sports Association. Both of these nonprofits help visually impaired people discover their athletic potential through participating in unique sports like beep ball and goalball, as well as rock climbing, swimming, and tandem cycling. West Georgia Eye Care Center is a major sponsor of Camp Abilities, a comprehensive developmental sports camp for visually impaired kids, which will be hosted at Columbus State University this Memorial Day weekend. What's the point of Camp Abilities?
"First and foremost, our purpose is to empower children who are blind or visually impaired to be physically active and a productive member of their schools, communities and society in general. Because children with visual impairments have been shown to have lower levels of health-related physical fitness than their peers, the camp plays a vital role in reinforcing each child's…confidence in their ability to master specific sports, recreational and social activities." (statement from Camp Abilities' website)
Another organization supported by Run Across Georgia is Run for the Heroes, a dream of local businessman John Teeples, which unites distance runners for a cause: House of Heroes. This intensely practical nonprofit recognizes, honors, and serves military and public safety veterans (along with their spouses) for faithful, sacrificial service to their nation. Home repair is a major motif of HOH volunteer work: painting, planting flowers, configuring handicap accessibility, etc. House of Heroes receives 100% of all donations pledged to Run for the Heroes runners.
An effort of this magnitude takes VISION. West Georgia Eye Care Center is all about vision! Our own Dr. Jimmy Brooks is getting ready to speed off for his 7th consecutive year of participating in Run for the Heroes. We asked Dr. Brooks what motivates him to give up his holiday weekend and embrace the challenge of this run. "I am grateful for the freedoms I enjoy and am glad to honor the men and women who paid the price for those freedoms," he responded, adding that he believes in local efforts spearheaded by people he knows and trusts. Dr. Brooks is confident that the money goes where it's supposed to go– right here in our community.
---