WGECC Midtown: Dr. Steven Henslee
Posted by: West Georgia Eye Care Center in Frontpage Article on September 9, 2016
In recent weeks, West Georgia Eye Care Center has welcomed several changes: new physicians, new office locations, and even a new logo. While we're excited for the updates, we also realize that change can sometimes be bewildering–which is why we're launching a new blog series for an extra measure of clarity. Last week, we highlighted the official opening of our North Satellite Office at 6600 Whittlesey Blvd. This week, we'll feature the new Midtown Office, located at 2012 10th Avenue, along with its resident ophthalmologist, Steven L. Henslee, MD, who will now practice in affiliation with our office. We are delighted to welcome him into the WGECC family!
A Bio Sketch: Getting acquainted with Dr. Henslee
Background
Dr. Henslee has practiced ophthalmology since 1983, with a particular focus on treating diabetic eye disease, macular degeneration, glaucoma and cataracts. His is a native of Oklahoma, and trained at the prestigious Dean McGee Eye Institute in the state capital. "My trainers later became heads of ophthalmology boards, and went on to become celebrated in the field. I'm grateful to have studied under such 'golden age' physicians," says Dr. Henslee. He also served with the United States Air Force as a flight surgeon, and was based in New England for a time.
The ophthalmology draw
As a young man, Dr. Henslee had a great mentor, a "larger-than-life" cornea disease specialist whose charisma fueled his interest in ophthalmology. At the time, he was studying microbiology at Oklahoma State University: "I was very comfortable with the microscope, and microscopic surgery is what ophthalmologists do–it seemed a natural fit." Dr. Henslee also admits to a stubborn streak: "Everyone said I couldn't do it. I didn't have the medical pedigree, my dad taught agriculture." So naturally, Dr. Henslee set out to become an ophthalmologist and prove the naysayers wrong. "I was persistent, I worked hard, but I also know God's hand was on me, allowing me to succeed."
But Dr. Henslee's initial pull toward eye care was intensely personal in nature: "My grandmother had corneal disease, and went blind when I was just a boy. I remember how much I wanted to help her see. I couldn't, of course. But in the years since, I've helped a lot of other grandmothers to see again."
After nearly three and a half decades of practice, Dr. Henslee says he still think of each eye as a gift–a present to open and discover.
On a personal note
Dr. Henslee is happily married with two teenage children, and his family enjoys traveling, fishing, and going on cruises. Dr. Henslee finds the Boy Scouts of America program rewarding, and has invested in many young men via Scoutmaster-ship over the years: "The Boy Scouts teaches young men such important life skills: loyalty, honesty, integrity." No matter what career these young men find themselves in, medical or otherwise, Dr. Henslee believes these qualities are invaluable.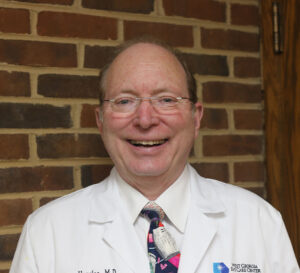 **
Dr. Henslee's own commitment to excellence and integrity in medical care in another reason why we're happy to have him with WGECC, and another reason it matters who you see!
If you'd like to make an appointment with Dr. Henslee at the Midtown Office (2012 10th Ave), please call (706) 324-4321.
NOTE TO PATIENTS: Dr. Henslee's Midtown Office is the only WGECC office located directly on the bus route, convenient for patients who travel via public transport.
---