Blue Ribbons and Purple Hearts
Posted by: West Georgia Eye Care Center in Frontpage Article on September 27, 2016
[av_textblock size=" font_color=" color="]
The sky reflected blue onto the glass doors, blue like the ribbon at the official opening of the new North Satellite Office of West Georgia Eye Care Center. It was an evening to express appreciation: Dr. Brooks addressed the crowd and thanked many who helped make this new building possible, including architects at 2WR, construction company Brasfield&Gorrie, and the myriad of subcontractors and vendors who worked on the project.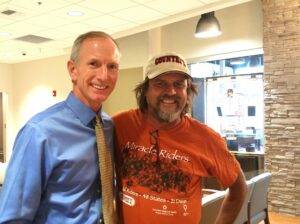 Other notable guests in attendance were the support team for iLASIK, the most advanced LASIK technology available. They helped with tours of the new iLASIK suite and answered questions about how to be free from glasses and contact lenses. A trio of ladies hailing from the Columbus Chamber of Commerce also assisted with the ribbon cutting ceremony.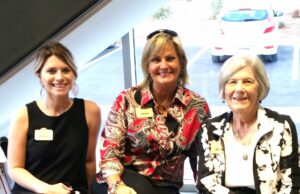 WTVM News Leader 9 captured the memories and shared our story of one of the goals for the North Satellite Office: to give back to U.S. military veterans. The NSO's address (6600 Whittlesey Boulevard) is the newest to be added to the registry of LASIK surgeons serving the Focus on Independence program. Focus on Independence is a nonprofit organization that provides laser vision correction at no cost to disabled individuals who cannot use their arms or hands to maneuver glasses or contact lenses. Since 2005, Dr. Brooks has offered this service to quadriplegics at our Main Office (2616 Warm Springs Road), a practice he will continue at the North Satellite Office. "The price paid for our freedom is very visible in our wounded veterans, and [laser vision correction] is something we are pleased to do for those who have given so much," said Dr. Brooks in an interview.
[/av_textblock]
---