Testimonials
What our Patients Say About Us
LASIK Testimonials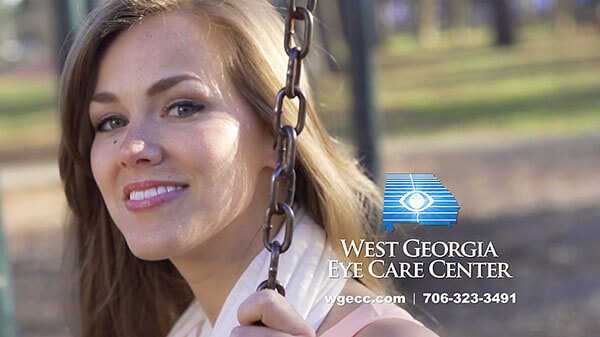 "LASIK changed my life. Your vision touches every aspect of your day-to-day experience, it's the way you see the world. When I got laser vision correction at West Georgia Eye Care Center, I felt like my whole world was new. It's like falling in love…it changes everything!" –Faisel, Tampa, FL
"I keep a very busy schedule, and contact lenses were just not practical. My eyes were always dry and irritated. My LASIK surgery at West Georgia Eye Care Center was one of the best decisions I've ever made. Now I'm free to live my life, work crazy hours, and not worry about contact lens care. Now I'm free to enjoy swimming, water sports, 3D movies. Now I'm free to live unhindered. It's a great feeling. I'd recommend LASIK at WGECC to anyone!" – Dr. V, Columbus, GA
"LASIK was so much easier than I imagined it would be. The environment at West Georgia Eye Care is to relaxed and open, even in the surgery room. Everyone was really reassuring. I felt completely at ease. It only took a few minutes, and didn't hurt at all. I went back to work the very next day! The doctors are experienced, skillful, competent, and really easy to talk to. They answered all my questions, made me feel very comfortable. You can trust your eyes to West Georgia Eye Care!" – Ashley, Columbus, GA
I couldn't even see my alarm clock before I had LASIK. I was basically helpless without my glasses, which was awful, since I lost them all the time! I wasted many, many hours trying to find my glasses. After having laser surgery at West Georgia Eye Care, it was like a new universe. My vision is great. I love having UV-blocking, polarizes sunglasses, but they always cost me at least $500 with my old prescription. Now, with perfect sight and no need for Rx in my sunglasses, I get the same quality shades for a fraction of the price. Really, LASIK is a savings in the long run." – Dr. S, Columbus, GA
"I was surprised and thankful that the doctor initiated prayer before surgery. WGECC is founded on things that matter even more than eye care. It's reassuring to know they the doctors believe in a realm beyond their medical specialty." –R.M, Hamilton, GA
"LASIK is totally worth every penny. I'm studying to be a nurse, and my classes are too difficult for me to be distracted by poor vision. It's so great to be able to look through a microscope without my glasses! I love working with the WGECC team, but now that I've actually been a patient, I know this practice is top-of-the-line." –J.V., WGECC employee, RN applicant
"I am 100% positive that I would recommend LASIK. It is a wonderful way to make life better. My vision was perfect the day after surgery; I was amazed by the results. I was so pleased with the service of all the people that work at West Georgia Eye Care Center." – G. Vargas, Killeen, TX
"I have worn glasses since I was 9 years old. At my worst, my eyesight was 20/600. Without my glasses, I could barely see the door, much less read the eye chart! I had LASIK surgery in 1999 and was thrilled by the night and day difference." -J.R., Columbus, GA
Cataract Testimonials
David Watley and his sister Pearl Mitchell both describe their eye surgery results from West Georgia Eye Care Center as, "Amazing!" Mr. Watley was in dire need of cataract surgery; his vision was so impaired that he was unable to see any of the letters on the exam chart.
He was so excited by his results that he immediately scheduled surgery for his other eye. "This eye is seeing so great that I can't wait to have the other eye done!" At age 57, Mr. Watley has been dependent on glasses for the past 5 decades. "I have worn glasses since the first grade! It's amazing to see without them," he says with a big smile.
He's not the only member of his family enjoying new vision.
David Watley's sister, Pearl, had such severe cataracts that she was considered legally blind. She was completely dependent on her son to drive her to and from work every day. Obviously, working was a challenge, as well. After cataract surgery on both eyes she is independent. In fact, she drove her brother to and from his eye appointments! "When I had my eye surgery, it was like Jesus healing the blind for me! Jesus and my doctor healed my blindness!" – David Watley and Pearl Mitchell
"I can read the phone book now!" Before having Restor® everything looked dim and had no color to it; I had to use a magnifying glass to read the phonebook. Now I am 20/20. I would recommend this procedure to everyone! – F. Hargrove, Columbus, GA
"This year the doctor said I had cataracts. After having my cataract surgery with Restor®, I can see better than I could with my reading glasses, especially up close. I love the new lens; I had no idea it was possible to see this well. I can read the road map now; I don't even have to look for my reading glasses first!" –J. Rogers, Columbus, GA
Testimonials from the Eye Surgery Center of West Georgia
"How was my surgery? Frankly, it was a pleasure. The staff is cheerful, kind, and gentle at every turn." -Marvin Schuster
"Everything was first-class! The flowers and phone call from the doctor were both such thoughtful gestures. I was treated like family." -D.G.
"Excellent all the way. You almost make me want to have a problem so I can come back!" -C.O.
"Caring and courteous people are sometimes hard to come by. I do believe West Georgia Eye Care snatched them all up! Thank you for your wonderful work." – J. S.
"I was extremely apprehensive before my surgery. Everyone was very sensitive, and helped to alleviate my anxiety and make me feel at ease. The staff is so competent and so thoughtful!" -P.F.
"I have never been treated better by a doctor or medical staff. Wonderful people!" -W.B.E
"You all are just awesome! Couldn't be better. I've already sent a new patient your way!" -Evelyn D.
General Testimonials
At West Georgia Eye Care, they make you family. We were treated with such warmth and genuine concern. I thought to myself, "they really believe we're part of their family!" – R.M.
"The doctors and staff at West Georgia Eye Care are very caring and could not have been more helpful. I am very happy with my results. I truly appreciated the prayer before the surgery! You only have two eyes, and you can trust them to West Georgia Eye Care. Sally called me the night of my surgery to check on me. That really meant a lot to me; I felt so cared for. I have already referred my friend and she loves West Georgia Eye Care, too!" –J.H., Columbus, GA
"So many medical practices today are operated like big businesses–very mechanical, impersonal, formulaic. West Georgia is totally the opposite. The quality of care is unparalleled, yet there is still a very human touch. You are cared for as a person, not a patient number." -Rachel M., Hamilton, GA
"I am so happy with my results! I have told my friends at church about West Georgia Eye Care and now they go to West Georgia Eye Care Center, too!" – Lore Parks
"I loved my experience with West Georgia Eye Care and I am very pleased with my results I even tell my out-of-town friends that they have to make the trip to have West Georgia Eye Care take care of their eyelids! –Carol Taylor
After being diagnosed with cataracts I was referred to West Georgia Eye Care Center for consultation and surgery. The entire experience was wonderful. Everything turned out even better than I'd hoped. I can see exceptionally well after having Restor®. I was practically blind; now I am 20/20. My doctor was so nice and sweet, he explained everything before I had the procedure. Now, I can do my word search books without glasses or my flashlight. – B. Ballard, Columbus, GA
"From initial consultation through actual surgery, the whole process was very professional. I had absolutely no anxiety." – G. Gullatte, Smiths, AL
"I looked at several other places, your practice was by far the best in all areas." – S. Williams, Columbus, GA
West Georgia Hearing Testimonials
"Your office is definitely far above and beyond the rest and is certainly a benchmark for every doctor's office to be measured by." – Dennis P.
"This is my first experience with hearing aids andI have been most pleased with the device and the service I have received." – Charles N.
"Thank you so much for your professionalism in taking care of my needs. I could not ask for any better service than I received." – William I.
"This process has become one of the greatest blessings of my life." – Patrick N.
"My hearing aid works like a charm." – Bob R.