Post-retirement update: what is Dr. Calhoun doing now?
Posted by: West Georgia Eye Care Center in Frontpage Article on October 16, 2015
Strange, isn't it? Each man's life touches so many other lives. When he isn't around he leaves an awful hole, doesn't he?

("It's a Wonderful Life," Frank Capra)
Nearly 45 days have come and gone since Dr. Charles Calhoun officially retired from ophthalmology practice at West Georgia Eye Care Center. Undeniably, he is missed! The halls still ring with the refrain from his former patients, "How IS Charlie doing?" So, by popular demand, and with his permission, we pieced together a little vignette of what's keeping Dr. Calhoun occupied these days.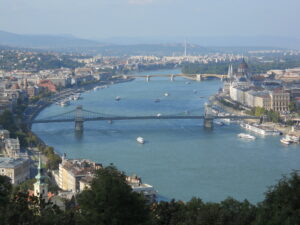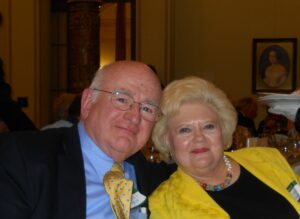 What was Dr. Calhoun's first order of business upon retirement? He and Ginger took to Europe for some much-needed (and well-deserved) rest and relaxation. Here's a picture Dr. Calhoun snapped while on the Danube: "It really is as blue as it looks in the river cruise commercials!" he said.
They also learned how to properly pronounce Budapest: "You say it with a little 'shush' sound, 'Budapesht.' The locals say you shouldn't make it sound like pest, a buggy thing you want to exterminate," he laughed. The photo above is of him and Ginger enjoying a welcome dinner upon arrival in the beautiful (and non-pesty) Budapest.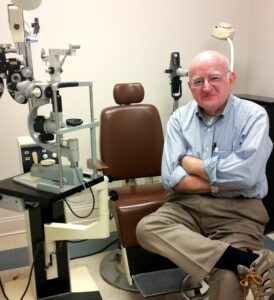 As much as he enjoyed Europe, Dr. Calhoun was anxious to start working again the minute he landed stateside.
"You have to be really disciplined to do life well as a retired person. It's hard. I like to keep myself busy, I want to know I'm being useful," he commented.
A true physician-caregiver at heart, Dr. Calhoun hasn't stopped ministering to people in our community. Currently, he volunteers as a part-time ophthalmologist at Mercy Med, and he loves it!
---